Right now I'm working on binding the bottom of the stays and when that gruesome task is finished I will move on to inserting the horizontal bones. Since this takes a lot of time I thought I might amuse you with the background of these stays.
I made these as my final project when I was in tailor school 5 years ago. I had limited time to research, make them and making a paper on them so I choose to sew them with machine and only do the interior finishing by hand.I couldn't find any reliable sources back then on how the 18th century silks looked so I made my stays of stiff linen in two layers. I boned it with reed thorough and bound the edges with cream colored lambs leather.
I used this pattern from Corset and Crinolines:
This is how they looked back then: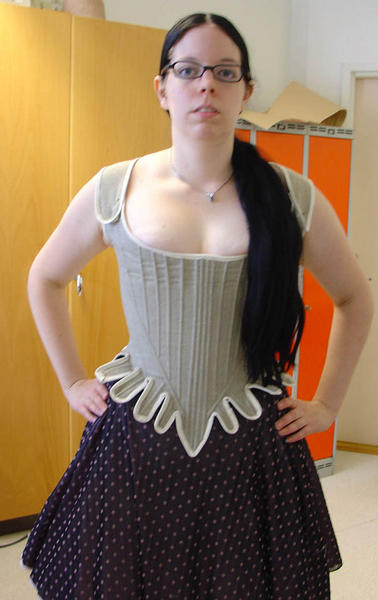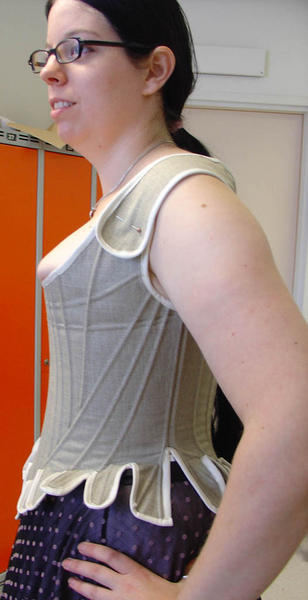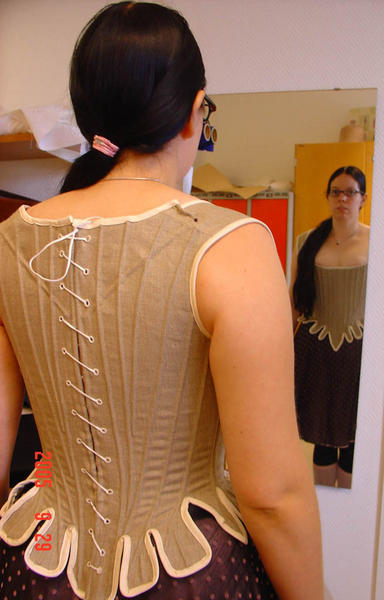 I was much more fit in these days so the stays turned out too big on me. Now they fit much better due to the more eh...wisdom I gained....
So in these pictures you can see that I have too fitting issues (besides that they are too big), the angle on the straps needs to be adjusted and the neckline at CF needs to be lowered so my boobs have a little more room. I also added two extra bones at the side of the bust and at the side on the front for more support.
I hope that I can post pictures of the refurbished stays soon.
/L